Powerful writing made easy,
Embrace our tool
Transforming Words. Empowering Creators Everywhere.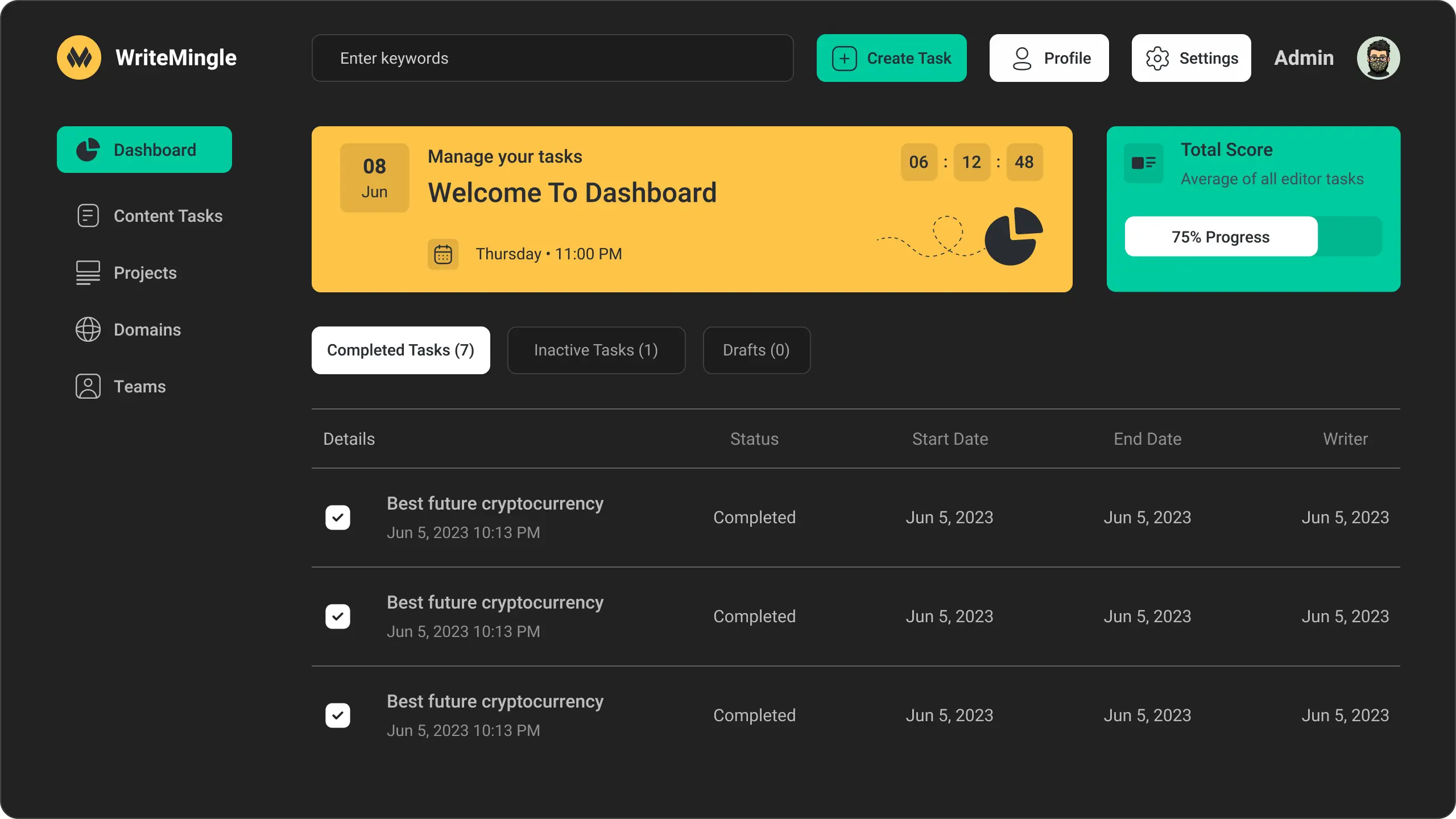 Your All-in-one Writing Assistant
Competitor Analysis
Our Competitor Analysis feature isn't just data; it's the strategic advantage that lets you stay one step ahead, turning your competitors into your best mentors.
Off Page SEO
Experience the art of Off-Page SEO with our expert touch, it is a great way to add backlinks for attracting organic traffic. Elevate your online game today.
NLP Keyword Mastery
Master NLP for seamless keyword optimization, boosting content visibility and relevance. Elevate your writing with natural keyword integration for wider impact.
AI Content Precision
Unlock AI's potential for precise, engaging content creation with Writemingle. Advanced algorithms enhance content quality, suggest improvements, and eliminate manual guesswork, meeting your audiences expectations.
Internal Linking
With our Internal Linking feature, transform your website into an interconnected information hub, where every click leads to a new revelation, making your content a true journey of discovery.
SEO Optimization
Discover the art of SEO finesse with our optimization feature, your secret weapon for skyrocketing to the top of search engine rankings.
Readability Score
Experience the power of clarity with our Readability Score, it helps simplify the complex so you can read, learn and enjoy effortlessly. Say goodbye to confusion and hello to understanding.
Plagiarism-Free Assurance
The WriteMingle tool prioritises originality, utilising advanced plagiarism detection to guarantee unique, plagiarism-free content. Safeguard your online reputation.
Explore our Toolbox
Revolutionize your writing process with our AI Content Detector.
Our AI content detector is a game-changer, it automates quality checks to align with the client's goals, eliminating manual work, and enhancing efficiency.
Off-Page SEO
Off-page SEO services are crucial for improving your website's visibility and authority on the internet. Our expert team employs a range of strategies, including AI backlink building, and content marketing, to enhance your website's reputation and credibility in the digital landscape. By improving off-page SEO, we (WriteMingle) ensure that your website ranks higher in search engine results and attracts more organic traffic, ultimately driving business success.
WordPress Compatibility
WriteMingle now offers WordPress compatibility for a user-friendly and efficient content management experience. Integrate WordPress Seamlessly!
Fuel teamwork and productivity with our team collaboration:
Writemingle fosters teamwork, enabling real-time collaboration among writers and editors, boosting productivity, creativity, and ensuring outstanding collective content creation.
Boost your content's reach with our AI backlink predictor:
Backlinks enhance content visibility and credibility on SERPs. Use our backlink calculator to analyse, optimise content with PA and DA, and expand engagement and exposure.
What people are Saying
Working with Writemingle has been a game-changer for my small business. Their content creation services have not only improved our website's engagement but also boosted our search engine rankings through their outstanding on-page and off-page SEO strategies. I highly recommend their platform and their starter package to experience yourself!
SB
Sarah Brown
SEO Content Specialist
I have been a blogger for 3 years, and I've never seen such impressive results until I subscribe to Writemingle. Their SEO techniques significantly increased my content leading to high organic traffic. They truly understand the art and science of content creation and SEO. Thank you team for being with me throughout the journey.
As an e-commerce entrepreneur, I understand the importance of having compelling content and strong SEO. Writemingle delivered beyond my expectations. With their platform I was able to optimise my product descriptions that helped me rank higher on Google, resulting in increased sales. Their team is professional and highly skilled. I definitely recommend it.
JA
John Anderson
Head of Content Development
Our non-profit organisation was struggling to reach our target audience. But with the expert writers at writemingle, our website content revamped making it more helpful and informative for our target audience. We are very grateful to the whole team, as we are now able to reach to the needy and provide necessary support.
DB
Daniel Brown
Content Marketing Manager
I run a local business, and Writemingle has assisted me in enhancing my online presence. Their on-page SEO tactics have improved my website's visibility in local search results, bringing more customers through our doors. Their content writers team understands the requirements of our brand and consistently delivers outstanding content. Thank you team!
EF
Emily Foster
Editorial Lead
Embracing WriteMingle has been a game-changer for our content creation process. The tool's ability to generate high-quality content suggestions, refine language, and even offer creative insights has not only saved us valuable time but has also elevated the overall quality of our content.
JT
James Turner
Content Manager
Choose a pricing plan
Free Trial Beta
Unlimited words / mo
This free development preview is available for limited time.
Frequently asked questions
Still have questions?
Get in touch with our team.
Contact
Get free trial of our tool
Discover the potential of our Writemingle content creation and SEO tool with a free trial. Take advantage of our exclusive feature to enhance your online presence and drive results without any cost or commitment. Join for the free trial today and experience the difference!
Writemingle
Made by Renske Analytics
Copyright © Renske Analytics. All rights reserved. Your trusted partner for content creation and SEO, empowering businesses to thrive online.
---
© 2023 Renske Analytics. All rights reserved.